an affordable and entertaining way to strengthen weak,
unstable ankles and knees.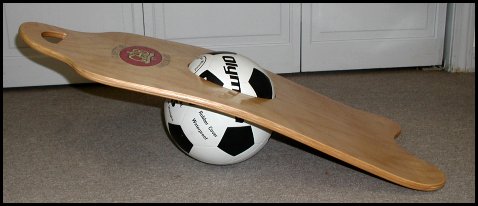 Each board is custom pressed and laminated out of 7 ply birch or maple, 7/16 inches thick.
Don't let this low tech design fool you!
You will find it to be very challenging and, yes, "fun."
CAB™
is easy to use.

is cost effective and built to last a lifetime!

can be easily adjusted to your skill level.

can be used on many different surfaces: dirt, grass, concrete, carpet.

is very safe when used as directed.

has received fantastic reviews because it produces results.
* the CAB™ is presently being used at home, in well known college and high school training rooms across the United States, in physical therapy departments and in fitness centers.
---
More Features . . .

Non-skid urethane surface


Built-in handle for easy transportation


Rounded front-end


Double-rounded back side for stability


Beveled, circular opening


Lightweight and sturdy


Accommodates up to 350 lbs.